Use Gmail with your own domain for Free
When you purchase
web hosting
, you'll get an unlimited number of email accounts right out of the box. However, it might take time to get used to because the interface is different from Gmail's.
There's
G Suite
as an alternative, of course, but you need to invest. The lowest plan costs
$6/month
for a user, whereas
email hosting
can start as low as
$3.25/month
.
Luckily, it's possible to use Gmail with your own domain for free. That way, you can have the best of both worlds — a custom domain email with the convenience of Gmail's interface. You also don't have to log in to different platforms to manage your personal and business emails.
How to Integrate a Custom Domain Email to Gmail?
Now that you know why it's convenient to integrate Gmail with a custom domain, let's take a look at the steps to set it up:
1. Getting POP3 and SMTP Details
Before we can set up a Gmail account to work with a custom domain, first you need to create a domain-based email. This can be done easily in your
Hosting Control Panel
by clicking on the
Email
link in the top menu of it.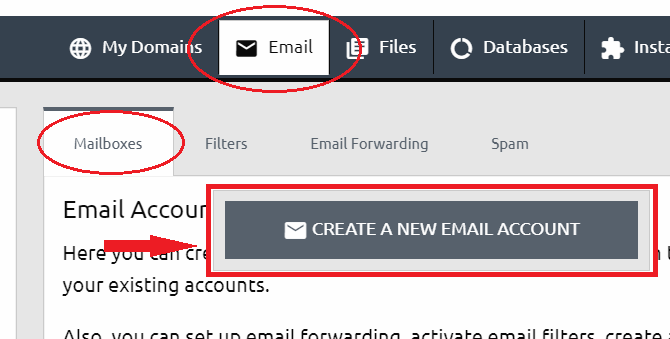 After creating the email, you need to collect its POP3 and SMTP details. To locate the email protocols in the Control Panel, do the following:
Head over to Mailboxes under the Emails section.
Take note of the POP3 host and SMTP host. We're going to use that information later.

2. Forwarding Emails to Gmail Account
Now that we have the necessary data, it's time to set the Gmail account so it can receive messages sent to your custom domain email. Here's how:
Log in to your Gmail account, click on the gear icon and select Settings -> Accounts and Import.
Choose Add a mail account under the Check mail from other accounts section.
After you entered your domain email, click Next -> Import emails from my other account (POP3) -> Next.
Fill in the details using the server information we located earlier. The server we're using is mail.tierrahost.com, and the port is 995.

Check the boxes as needed, but we recommend to tick the first three boxes as you can keep two copies of the same messages on different platforms, use a secure connection, and label incoming messages according to its original email destination.
Click Add Account to finalize the settings.
You'll be prompted with the option to send emails from your custom address. If you only need Gmail to receive emails and choose No, you'll be all set! But if you want the platform to be your one-stop destination to receive and send messages, select Yes and continue to the next part.

3. Configuring Gmail to Send Emails as a Custom Domain
Enter your name and email address and leave the Treat as an alias box checked. This way, you can manage incoming and outgoing messages from the same inbox as your current Gmail address. Click Next.
Set the mail.tierrahost.com as the SMTP server and 587 as the port. Use TLS to secure the connection.

Go to your inbox and open the verification email. Use the link or code to confirm your request.
Once you're done, you can now use Gmail to send messages as your custom domain address.
Conclusion
That's all there is to it. You will now be able to send and retrieve emails of your personalized domain backed by the power of Gmail.