A bunch of IT-related, promo-priced, domain extensions avaialble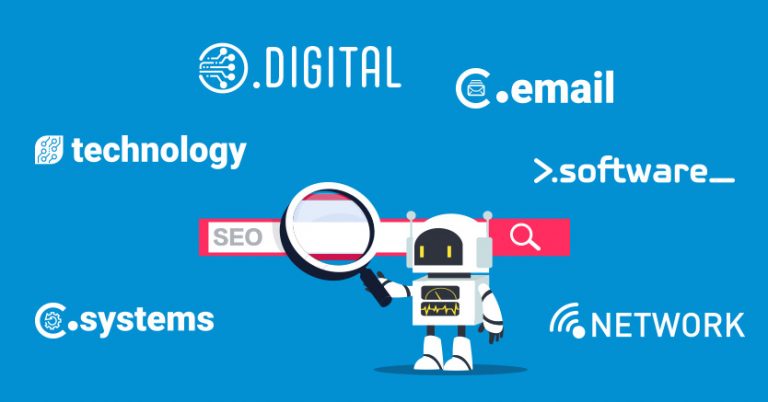 Recently, we've started releasing a series of new TLDs that provide you with the opportunity to enrich your portfolio with a variety of modern, fresh and highly-targeted domain name extensions.
Now we are launching a set of nTLDs that address various aspects of the IT industry including .DIGITAL, .EMAIL, .NETWORK, .SOFTWARE, .SYSTEMS, .TECHNOLOGY and .COMPUTER.
Additionally, all of the newly-introduced TLDs are available at discounted prices so you can easily, and affordably, purchase yours today.
---
New TLDs inspired by the IT industry – overview and benefits Thanks to ICANN's new TLD program, which was introduced more than 6 years ago, the domain market has had a significant boost to both variety and choice.
A great number of highly expressive TLDs were released to match the exact needs of various market niches and interests.
That made finding an address that fits a specific brand easier than ever.
Also, it gave brands the option to feature their keywords right in the domain suffix which helped them maximize their organic SEO results.
With the new set of nTLDs that we are releasing today we'll help you address various aspects of the IT industry in a precise and well targeted way.
All of the newly released TLDs are wide open for registration and can be registered by anyone who is interested in running a website on the IT scene.
.DIGITAL
- from $3.49/year

Almost all aspects of our lives have now gone digital – from TV and music to art and design.
Thanks to ever-evolving technologies, we are getting our daily routine digitalized as we download everything from MP3s to e-books.
Added to this – the pure, technical nature of the word "digital" makes this TLD a really attractive namespace for all types of technology companies and online retailers that are committed to making our lives much easier.
Launched 6 years ago, the .DIGITAL TLD was instantly recognized as the default choice for many online businesses.
That explained the steady growth of its registration numbers which are now close to 75, 000.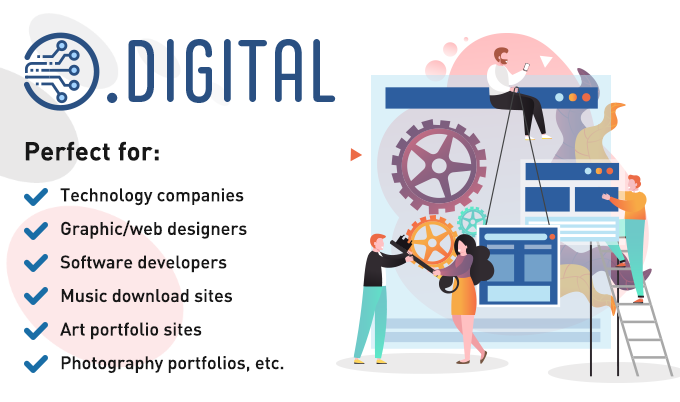 .DIGITAL can be used in a variety of domain scenarios. For instance, it could be used as part of a business name e.g. tvplus.digital or for branding the online space of an artist who is offering an online preview of their work e.g. marysart.digital
It also makes a perfect namespace for graphic designers, software developers or IT companies whose primary product or service is of a digital nature.
Any websites which offer downloadable content such as music, videos, e-books, etc. can make great use of .DIGITAL for their storefront.
The .DIGITAL TLD is wide open for registration to any business, organization or individual worldwide.
.EMAIL
- from $5.49/year

Email is still the most popular communicationmedium online with around 4 billion active users around the world – that's more than half of the global population!
Thanks to the .EMAIL extension, all email-related businesses and entities can cater to this huge target base with a highly targeted web address.
The .EMAIL extension was launched in 2014 and with a consistent growth rate since then it has managed to score more than 110, 000 registrations to date.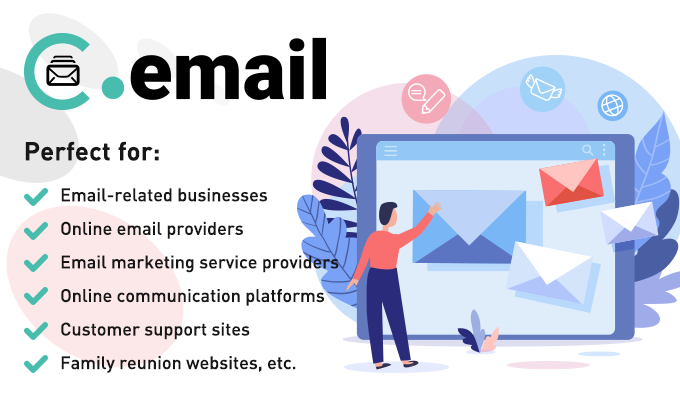 It has become a preferred choice for any individual, business, or organization that is focused on email.
For instance, online email providers, email delivery and communication platforms could all take advantage of this straight-to-the-point namespace.
Also, .EMAIL is the perfect fit for email marketing service providers or for websites focused on content marketing tips and news.
.EMAIL could also be used for a company's secondary website which is dedicated to offering customer support and useful service-related resources e.g brandsupport.email.
The .EMAIL extension is wide open for registration to any business, organization or individual worldwide, with no specific requirements to follow.
.NETWORK - from $4.49/year

Server and telecommunication networks lie at the basis of the Internet and networking – at the heart of modern communication.
All that makes .NETWORK a really symbolic namespace for making connections and sharing information in both personal and professional contexts.
Also launched in the first round of the nTLD Program, .NETWORK came as a fresh alternative to the overcrowded legacy .NET namespace.
It has so far been trusted by more than 60,000 registrants including network-related businesses like IT companies and telecommunications providers.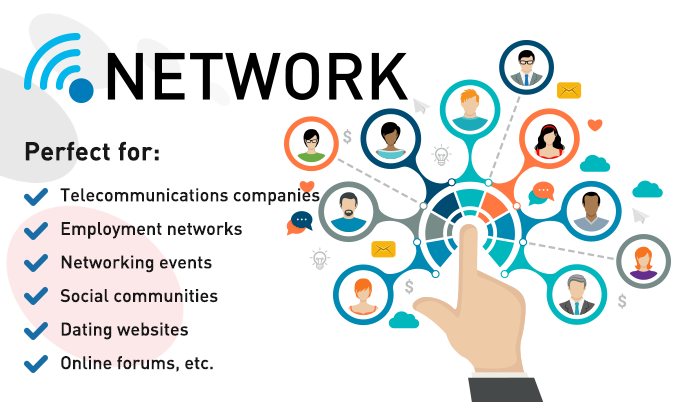 Also, it could just as easily be used by networking event organizers for sharing information, news, schedules or contests on a dedicated website.
The extension is also perfect for all types of social communities and discussion boards where users post topics and share views.
For instance, if your community is dedicated to a specific cause like eco-volunteering, child nutrition or wildlife rescue, you could easily get a great name for your site by adding .NETWORK to the name of your cause e.g. ecovolunteersalaska.network, childnutritionafrica.network.
Also, .NETWORK makes a perfect choice for dating websites that help people to connect based on both interests and emotions.
The .NETWORK TLD is wide open for registration to anyone who wants to build a network online.
.SOFTWARE - from $13.99/year

Software lies at the heart of modern life, making it much easier for us to organize our daily routines.
From waking up to the alarm clock on our mobiles to handling workloads via our laptops, it's all driven by the power of software.
Launched back in 2014, .SOFTWARE came with a mission to provide a highly relevant namespace for software providers of all types.
The extension is a good fit for any company that specializes in software development and training services, as well as for freelance software engineers and open source communities.
Down the chain, it is also great for software retailers, salesmen and consultants who make various software products and services accessible to specific markets.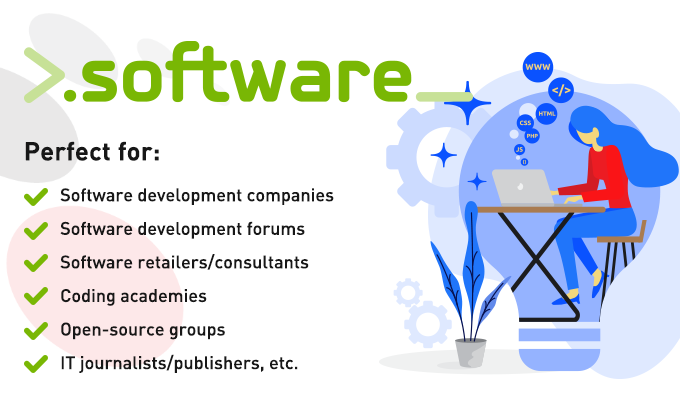 And, of course, it is embraced by bloggers, IT journalists and publishers who are dedicated to informing the wider public about software and related topics.
Featuring the word "software" in your website address will make your software-related brand instantly recognizable as such and will increase the organic SEO score of your website.
The .SOFTWARE extension is open for registration to any individual, organization or business that identifies itself as software-related, with no specific requirements to follow.
.SYSTEMS - from $11.99/year
The .SYSTEMS domain extension was launched to address the needs of the computer systems industry.
Computer systems are the backbone of automation and data processing and lie behind technological advancements.
After being around for 6 years the .SYSTEMS namespace now accounts for almost 32,000 registrations.
It is a recommended choice for all types of tech industry companies, software designers, systems engineers and businesses that specialize in cloud computing and data entry systems.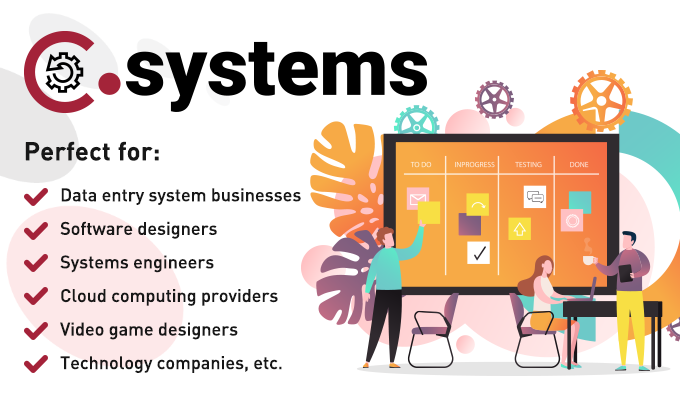 Apart from the IT context .SYSTEMS could just as well be used for any website that could be system-related such as security, science, transport, economy, communication, etc.
Also, if your company name includes "SYSTEMS", you could use the TLD to make a great domain hack (e.g. sirius.systems, bmgsecurity.systems, etc.) that will make your web presence catchy, recognizable and SEO-friendly.
.SYSTEMS is available for registration to any individual, organization or business relating to the power of systems, whatever the context.
.TECHNOLOGY - from $8.49/year

Technology is moving the world forward, making our lives today much easier by resolving problems, automating tasks and easing communication.
With the release of .TECHNOLOGY in 2014, the technological industry got its own dedicated namespace which now has almost 33,000 registrations.
The TECHNOLOGY domain is а top choice for companies that specialize in digital electronics, software, and internet-related products and services, etc.
Also, it's great for tech communities discussing various advancements in technology or for marketing campaigns that focus on promoting a new product or service.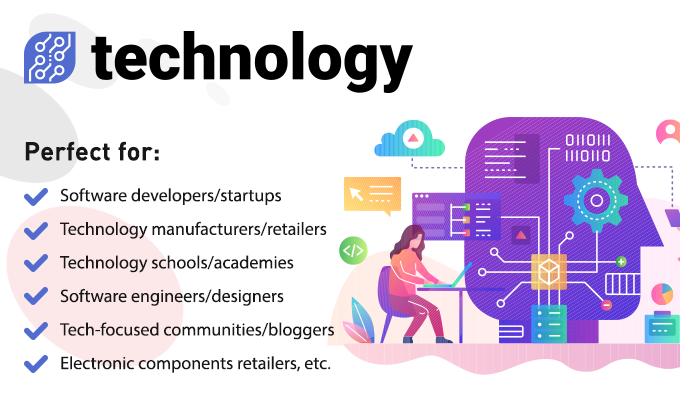 Tech bloggers and publishers could also take advantage of the branding power of .TECHNOLOGY for their targeted content.
If your brand name ends with "technology" then going with this extension will help you save domain space and will sound relevant to your type of business.
The .TECHNOLOGY domain is open for registration to all individuals, groups and businesses that are technology-driven.
Apart from computers, technology can also be found in the fields of science, medicine, agriculture, construction, transportation, etc., so the applications are endless.
.COMPUTER - from $13.99/year

With .COMPUTER, the IT industry got a very important name for one of its most important sectors.
.COMPUTER came to light in early 2014 and has since accumulated more than 7,000 registrations.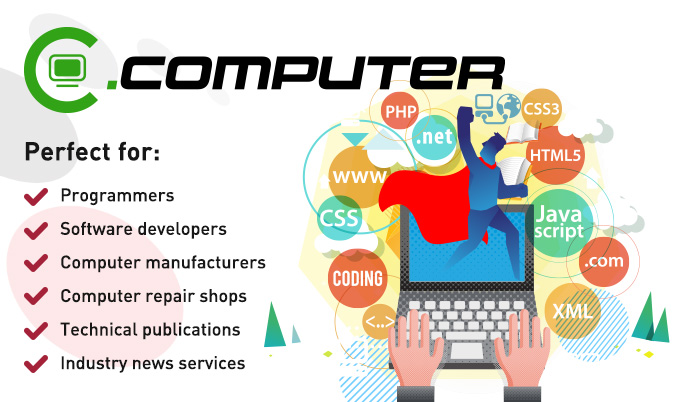 This new TLD offers a credible, traffic-increasing namespace for the wide range of companies in the computer sector.
These include companies specialized in developing computer software, designing computer hardware and computer networking infrastructures, as well as manufacturers of computer components and retailers, etc.
Also, the extension is a great fit for providers of information technology services and computer magazines, as well as for any website focused on computer-focused reviews.
The .COMPUTER extension is open for registration to any individual, organization or business that is somehow related to the computer industry, with no specific registration requirements to follow.
We are offering .DIGITAL, .EMAIL, .NETWORK, .SOFTWARE, .SYSTEMS, .TECHNOLOGY and .COMPUTER at exclusive promo prices until December 31st, 2020
Check your Domain Availability...